OCS vs. Quadzilla Cannabis
Ontario Cannabis Store Delivery Review
Now that marijuana has been legalized in Canada, more and more Canadians have started buying weed online. As a new smoker or seasoned smoker — having options is great! But sometimes too many options can create a headache. We want to take you through a breakdown of two online cannabis stores — OCS and Quadzilla. Keep reading for a breakdown of what we thought about OCS vs. Quadzilla.
Quadzilla Cannabis Vs. OCS: Packaging
Comparing the Dispensaries Cannabis Products Packaging
Living environmentally conscious is of great importance to most people today, and that does not stop when you are purchasing some bud. With that in mind we thought we would look at the choice of packaging from OCS and Quadzilla. Of course, the packaging will change depending on the amount of cannabis you choose to purchase. Let's take a look at your more common purchase size of a quarter (7g)
Quadzilla Cannabis Packaging Unique Approach
When ordering from Quadzilla you will notice that they have established a strong brand that truly reflects a company that is focused on providing a good customer experience. But it does not stop at the website — even their packaging is a unique experience!
Recently purchased a half oz. (14g) of some beautiful Blue Dream it arrived in this wonderful looking tin can — kinda like a tin of tuna! I must say when it arrived I was pleasantly surprised. Why did this surprise me or matter so much? Well it is clear that not only does Quadzilla want to be remembered through their branding, but they wanted to keep my bud in the best shape possible.
You may be thinking, well what do I do once I take the lid off? Well, do not stress — they give you an airtight plastic lid. They literally thought of everything here!
So, not only are you getting quality weed because of great packaging, but something you could also use in the future.
Stuck With the Brands
It is important to remember that when purchasing from OCS, yes you are purchasing from one location (website), however the reality is you are purchasing from a variety of different cannabis cultivators. So what does that mean for the packaging?
Simply put, OCS will send you whatever quantity of cannabis in whatever kind of container — not so thoughtful! So what does that mean? Well from personal experience, the container was so large it allowed the bud to immediately dry out and there wasn't even moisture packages provided
In the end, Quadzilla's tuna cannabis tins demonstrate a level of thoughtfulness any practiced smoker would appreciate!
Quadzilla Cannabis Vs. Ontario cannabis Store: Quality & Weed Grade
Ontario Cannabis Store Weed Quality
One great thing about the OCS website is the transparency provided about each strain. Not only are you given a thorough description, but the breakdown of THC to CBD ratio — this information can be vital to a cannabis consumer!
When purchasing Blue Dream from OCS it was rated with 15-21%. When I opened the oversized package that my 3.5g showed up in, although disappointed with the dryness of the bud — it hit hard, like face melting hard.
Quadzilla Cannabis Weed Quality
When purchasing your bud from Quadzilla you are presented with similar information to that of OCS — a breakdown of THC to CBD ratio, a brief description of the bud itself and quantities available. Although sold at a lower price than OCS, the bud looks good, smells good, tastes good and most importantly smokes good. Not only did Quadzilla deliver a beautiful looking bud, it also provided a long lasting, face melting experience!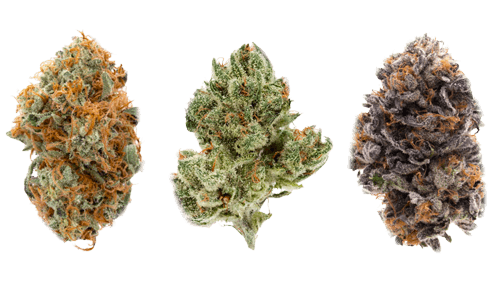 Quadzilla Cannabis User Reviews
Recent reviews from weedmaps about Quadzilla Cannabis. Want to leave a review? Tag us on Instagram and reddit!
Quadzilla Cannabis is the very best delivery service in East York by far! No one else compares to their great service. I had a situation once that I ordered something inadvertently, and Quadzilla was more than happy to accommodate any exchange I needed They went above and beyond their way to help me out, where I know for a fact other places Do Not! All other services care about is the money, where Quadzilla cares for you and your needs!! If you want fast and reliable service, Quadzilla is "The Best" around!!
The Best Delivery Service & Product Around!!
Great experience and very amazed by their quality of bud and packaging!
Flowers are amazing packaging is great this was my first order will definitely be back for more i got the do si pie and black god they are perfect for me love both strains
Quadzilla Cannabis Vs. OCS: Delivery
Depending on whether you smoke everyday or just on special occasions, you always want to make sure you have your cannabis when you need it. Understanding the delivery or shipping process is an important step.
Quadzilla Cannabis Delivery
Starting with Quadzilla, they offer two options to get your weed to you — shipping to your home or same day delivery. Due to personal reasons — I opted for the same day delivery.
If you haven't already — you NEED to visit Quadzilla's site. Not only is it fast — but the layout and design is stunning! Anyway — that is not what we are talking about. Once you find your bud and choose your quantity, you are then prompted to create an account. One thing that stood out was how quickly you were reminded of requiring an account.
Once I put in my information and uploaded my ID, it was only a couple of hours before I was fully approved. I received my email and went back to the site to finish my purchase. One really unique feature on Quadzilla's site (and I have yet to see it on any others) is the option to choose a delivery time slot. WHAT? I can actually plan my day — I don't need to be home between the hours of 9 am to 9 pm! Amazing!
I picked my time — got my confirmation and now it was time to wait. I busied myself throughout the day and before I knew it I was receiving a text from my driver that he was on the way. When choosing same day delivery you have two options for payment — pay cash to the driver or pre-pay via e-transfer. It is important to note that the e-transfer does have an additional fee.
When my driver arrived, he did so in such a way that would ensure we could maintain social distancing. Money and goods were exchanged — and we both went on our way!
All in all, it was a quick and seamless delivery!
During the height of COVID-19, I found myself in need of some cannabis — and due to some natural anxiety rather than using my usual methods of purchasing I turned to OCS. It is hard to explain why exactly, but it is what it is. I took a look at OCS' very vast catalog of flowers and picked my favourites. Unlike Quadzilla, you do not create an account on OCS. Instead, you are required to show your ID upon arrival of your order. Let's chat about this: so what does that mean for you the purchaser? Well, this is where I truly felt that OCS was lacking in their timeliness and delivery. Not only did I only have the options of Delivery to door or Pick up at Postal Office, I also would now have to be present at the exact time of delivery to show my ID. And that also meant I would have to pass my ID to another person — remember this is the height of COVID-19. I can't say I was happy about any of these scenarios. But I went ahead with my purchase … Skip ahead to two days later and I finally get notification that my order is on the way, and I was providing tracking information. Tracking information is great, if you want to sit there and watch the progress — I did not. In the end, due to poor communication and a delay in delivery — not only was I not available to actually pick up my order, but my partner also had to advise the driver to keep their distance. All in all, not the greatest customer experience with the deliver to door service from OCS.
Quadzilla Cannabis Vs. Ontario Cannabis Store: Online Experience
Comparing the Dispensaries Order Experence
I don't know about you — but when purchasing my cannabis products online I look for a certain style of website. There is something about style that also creates a kind of credibility. No need to break it down here, I will just be blunt — Quadzilla's branding, organization, structure and accessibility won me over right away. Of course, OCS holds credibility because it is run by the government — but the website lacks that customer awareness, leaving me feeling underserved. As you navigate your way through Quadzilla's site — there are very few questions you are left with. The information is upfront, easily accessible and provides you with what you need to make an informed decision. On the other hand, OCS provides TOO much information. Yes, we want information — but it is important that the information is accessible and easy to read. Both sites run quite smoothly — little to no delays on site speed which is always a must! As mentioned before, the communication from OCS (particularly around delivery time) was minimal and created some confusion.
Quadzilla Cannabis Vs. OCS: Conclusion
Comparing the Dispensaries Cannabis Products when Buying Weed Online
In the end we will leave you with these final thoughts, yes OCS is your legalized avenue with a plethora of products — but the daunting complicated mess of a website and errors in communication left a bad taste in my mouth. Going forward, it is clear to me that the quality bud, strong customer service and overall better experience comes from the thoughtful team (and cannabis) at Quadzilla!
Canadian Online Dispensary
Get 20% off Your First Order with Quadzilla Cannabis
If this is your first time purchasing with Quadzilla Cannabis, use our Edmonton Weedmaps Promo Code to get 20% off your first purchase. If you need any help get in touch on our contact page, or reach out to us on reddit & instagram @quadzillaofficial